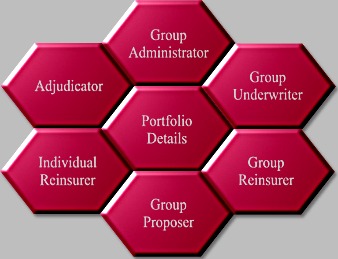 An integrated, modular, multi-user software package, THE ADMINISTRATOR offers total management of an insurance portfolio. Unique in its ability to centralize data and powerful in the tremendous variety of its applications, it is organized by function and purpose into six discrete units:
Click on the links above for more detailed descriptions of the individual modules.
System availability and a price list are provided below.
---
The Advantages of Modularity Structure
The modularity of THE ADMINISTRATOR is achieved in its use of the stored information about individual policy holders and the insurance portfolio itself. The system thus incurs no data redundancy, integrates portfolio administration, and utilizes a single core of information while it offers multiple access.
---
System Availability
Windows NT Workstation 4.0
Novell Netware 4.x, 5.x
Microsoft NT Server 4.0
Demonstrations are available upon request via PC Anywhere
---
Price List (effective Jan. 1, 2000)
All modules licensed MUST be for the same number of users.
All prices in US dollars.
| | | | | |
| --- | --- | --- | --- | --- |
| | Single User | + up to 5 users | per 5 user packs up to 20 users | per 10 user packs unlimited |
| Group Administrator | 25,000.00 | 10,000.00 | 25,000.00 | 25,000.00 |
| Group Underwriter | 10,000.00 | 5,000.00 | 10,000.00 | 10,000.00 |
| Group Reinsurer | 10,000.00 | 5,000.00 | 10,000.00 | 10,000.00 |
| Adjudicator | 20,000.00 | 5,000.00 | 20,000.00 | 20,000.00 |
| Group Proposer | 5,000.00 | 2,000.00 | 5,000.00 | 5,000.00 |